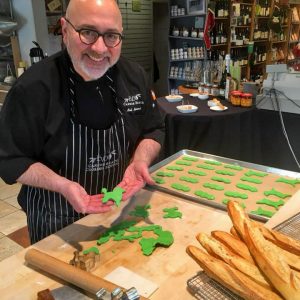 At EVOO Cannon Beach Cooking School, there aren't too many rules. But owners and chefs Bob Neroni and Lenore Emery do encourage their students to partake in "active dining": know and respect where foods come from by purchasing, foraging or growing seasonal, sustainable whole food ingredients and choosing to cook from scratch as often as possible.
As part of the North Coast Food Trail, Neroni says EVOO can do their part to share that idea and he likes the idea of local food purveyors being able to shout what they do from the rooftops. It's a philosophy that has brought EVOO (or, Extra Virgin Olive Oil) wide acclaim over the past 15 years.
Neroni and Emery hope that everyone who attends their wide variety of classes – from artisan bread making to multi-course meals – comes hungry, for food and for knowledge.
On any given night, students will see anywhere from 25 to 35 recipes being prepared right in front of them. Neroni says that their main focus is on technique.
"Technique will free you, recipes will bind you," he says, which inspires cooks to think about their local food shed, organic farmers markets and keeping the focus as local as possible.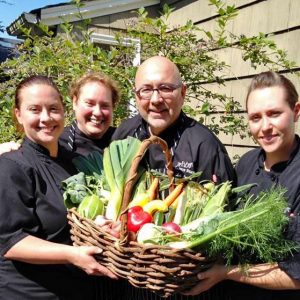 Neroni says EVOO subscribes to the 80-20 rule: 80 percent of what they use is organic and local, something that more and more cooks and diners are paying attention to, especially in Oregon.
"People are looking for experiences, they want to spend their money on something lasting, they want to learn," he says. "The North Coast Food Trail only enhances those experiences."
As chefs, Neroni and Emery love that there is no shortage of local ingredients to choose from, making Oregon a premier food destination.
"When it comes to promoting local growers, Oregon has raised the bar and is doing it right," Neroni says.
EVOO Cannon Beach Cooking School is located at 188 South Hemlock Street in Cannon Beach.