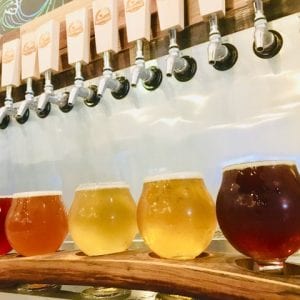 Musicians Matt and Amy had a crazy dream.
To start a brewery on the Oregon Coast.
The two enjoyed the brew scene in Colorado.
"We would always come to the coast and wish there was a brewery like in Denver," Matt said. "We really wanted it to have a coffee shop feel: come and stay a long time and try a lot of new experimential beer."
So, Matt started brewing as a hobby.
But, that crazy dream to grow that hobby never went away.
After extensive searching, and a partnership between Megan Leesley and Sean Sissel, they found the perfect spot in Glendale Beach, just south of Lincoln City, in The Shops at Salishan.
And Beachcrest Brewing Company was born.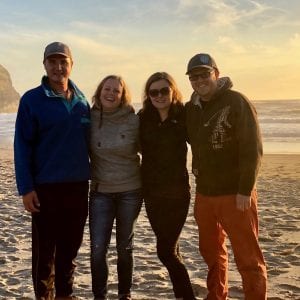 "People who live in the hyper-local area are so excited to have this outlet to come here," Amy said. "Folks are also excited to have us offering high-quality, local beer. And it's a nice family, friendly place that they can hang out. We love our space. We're on the back nine of the 18 hole golf course; we're on hole 10. The deck has been such a fun gathering place for people."
Beachcrest brews artisan ales in "new American styles and classic European styles."
And we bet that they have something you've never tried before.
Sweet 'n Tart Raspberry Strom Ale. Mayan Mole Stout. Mango Milkshake IPA.
"We wanted to do a bit of a different niche," said Matt. "We looked at all the different brews around us and wanted to do something different. And something that's to our taste. So many people have not been introduced to those new styles, so it's a cool opportunity to be the brewery that introduces it to them."
In addition to brews, Beachcrest also serves up small dishes of finger food including soft Bavarian pretzels, hummus, and chips. But as a bonus, you can bring your own food or takeout order. And for those in the minor crowd, there are delicious Italian cream sodas.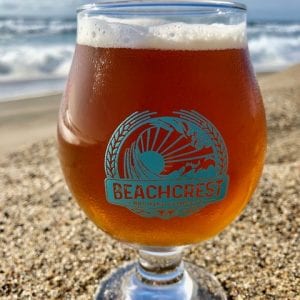 So order a brew, a small snack, enjoy the the environment, and stay awhile.
"We wanted to make a great community gathering space," said Amy. "We want people to feel like they can spend a lot of time here; they can play a board game or spend time with their family."
Beachcrest Brewing is located at 7755 N Highway 101, Glendale Beach.
All ages are welcome in the taproom until 9 p.m. Dogs are welcome on the deck.