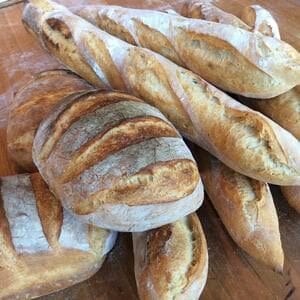 In late summer of 2004 came the rumor that the only bread in Astoria worth eating was about to stop being made. Michael Henderson of Home Spirit Bakery was heading to California to complete his training to become an ordained Episcopalian minister. Simultaneously a group of folks with connections at the Astoria Cooperative were talking about worker collectives.
The combination of these two things proved fertile ground for the creation of the Bread Collective.
Arrangements were made to use the kitchen in the old Victorian house that had housed the Home Spirit bakery to continue to make bread to sell at the food co-op. With a few lessons from departing baker Michael, and the combined determination of the five new collective members, bread continued to be baked and delivered. The collective committed to get together once a week for a meeting, and to each take a day to bake bread. All five kept their other day jobs, and all revenue made from the bread was put aside towards the future opening of a retail space.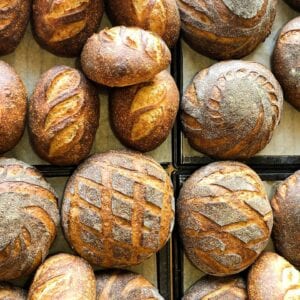 Plans began in earnest to locate a suitable location for the bakery. Then a place was located- the Fort George Building was being vacated by the Ocean Crest car dealership. It became the home of the Blue Scorcher Bakery & Café on the corner of 15th and Duane Street.
The café serves up the best bread, pastry, breakfast, lunch, and drinks that are all made by hand. Their coffee drinks are made with Astoria Coffee Co. organic and locally roasted fair trade coffee; organic milk or milk substitutes; homemade organic syrups; and love. They buy local, organic produce and use organic ingredients in their pastries, bread, and food.
Visit Blue Scorcher Bakery & Café at 1493 Duane St, Astoria.