Ann and Tony Kischner focused on farm-to-table, even before it was trendy.
As owners of the Bridgewater Bistro in Astoria, the husband and wife duo build their menu around what's regionally available.
"We're trying to highlight what's already here," Ann said noting their proximity to word-class seafood, wild mushrooms, and berries.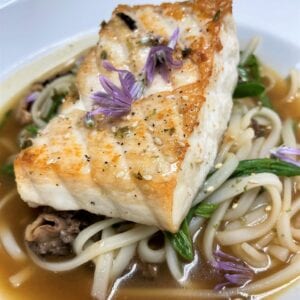 "It's a great place to try local seafood. Things you might have never tried," Ann said. "We have a seafood special every day that may include rockfish, different types of cod, octopus, surgeon, or halibut."
Ninety percent of the menu is gluten free and there are always vegan and vegetarian options available thanks to the creativity of their Chef De Cuisine, Geoff Gunn.
"He's very committed to the same things as we are," Ann said. "He has lots of great relationships with people up and down the coast."
Ann and Tony purchased the Bridgewater Bistro in 2008.
"We have been in the restaurant business since college," Ann said. "We love to eat and drink. We grew up in families that liked to do that."
In addition to being owner, Ann is also the head pastry chef for the restaurant.
"I grew up baking with my mother," Anne said. "My mother only cooked her own bread. There was never white bread around. She used honey from down the street and she never used sugar."
The dining experience is heightened by the view of the Columbia River. With the Covid-19 pandemic, restaurants were forced to limit capacity and encouraged to have outside dining options.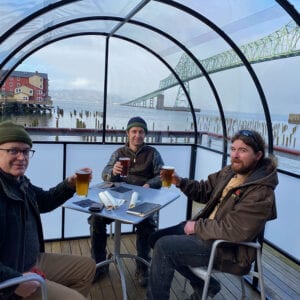 The Bridgewater Bistro opted to purchase several Kose Dining Pods. The Kose pods are named for the Norwegian word for cozy. They have that Scandinavian cachet of hygge (Danish and Norwegian for a mood of coziness and comfortable conviviality) and loyly (Finnish for sauna). The Kose pods fit up to one picnic table, which can seat six.
"We happened to see a picture from social media," Ann said. "We knew we couldn't put a tent up; it would get blown apart. It's a great place to immerse yourself in the experience."
The Bridgewater Bistro is located at 20 Basin Street, Suite Astoria,
For more information, or to see the Bridgewater Bistro's menu, visit bridgewaterbistro.com.