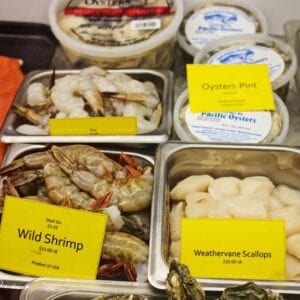 FishStix was born from a love of fresh, local Pacific Ocean seafood. Locally owned and operated, FishStix strives to bring customers boat-to-table, sustainable seafood at a price anyone can afford. Located on the mouth of the beautiful Columbia River, FishStix serves the Warrenton and Astoria area of Oregon's North Coast.
FishStix sells fresh seafood including: Salmon, Halibut, Lingcod, Petrale, Dover, Black Cod, Sea Bass, Rex Sole, Sand Dabs, Dungeness Crab Meat, Dungeness Crab Legs, Pink Shrimp, Scallops, P&D Shrimp, Shell-On Shrimp, Oysters In-Shell, Shucked Oysters, Manila Clams and Black Mussels.
Additional frozen and smoked seafood options are also available for purchase. To see a full list, visit their website.
FishStix is located at 38 SE 1st St, Warrenton.