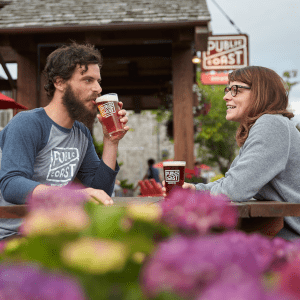 Located just 70 miles west of Portland in Cannon Beach, Public Coast Brewing Co. (named after the only true publiccoastline in America: the Oregon Coast) is a 10bbl brewhouse with two 20-barrel fermenter and four 10-barrel fermenter.
Twenty-some years ago, Ryan Snyder was living in Las Vegas running taps in the back bar of Holy Cow Brewery for entrepreneur and Vegas legend Tom Wisner. The aroma of hops, the bright tanks and the buzz of a brewery in action left an indelible mark and he decided that one day he'd open a brewery.
Fast forward past meeting the "Girl from Cannon Beach," joining the Martin family business, a restaurant gig, a bartending gig, a wedding, some kids, two hotels (The coastal luxe Stephanie Inn and the more family-oriented Surfsand Resort) and finally purchasing Clark's Restaurant which as Ryan looked around, he thought "hmm… this will be the perfect spot for a brewery someday." He honed his skills in hospitality and waited until the time was right.
Enter Will Leroux. Woodworker. Forager. Farmer. Beekeeper. Bearded (of course.) Trained as a chef, Will was eager to try out his home-brewing skills on a larger canvas. Ryan and Will hatched a plan to bring Ryan's vision for his own brewery to life. Will's talent with flavors was a huge bonus: together, they could brew beers that were seasonal, original, classic or a little bit twisted.
As Will developed his beers and honed his craft Ryan began the process of transforming the restaurant into a working brewery. He knocked down walls to make room for the giant tanks and fermenter; he repurposed timbers from the restaurant into beams, floorboards and a hand-planed bar. And joined by brewer Will, embarked on his dream.
To this date, over 100 batches of beer have been brewed and Will has received recognition for his work, including an Oregon Beer Awards gold medal win for the '67 Blonde Ale, and most recently, another gold for the Blonde at the World Beer Cup.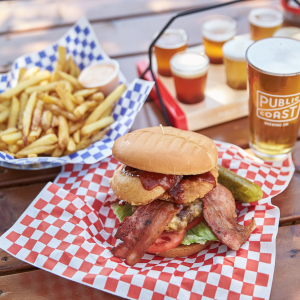 Stay up to date with what's on tap by visiting their website, but maybe you'll be lucky enough to try the Bellma Coffee Hazy IPA, Public Coast Farm Berry Wheat Ale, Passionfruit Kettle Sour, or the Coconut Brown Ale while you're in town.
Public Coast Brewing Co. also offers fresh and delicious food from local farms and ranches for adults and children alike. Designed to pair well with beachcombing, hiking, kite flying and storm-watching, their food also goes perfectly with a pint of any of the beers. They use seasonal fresh ingredients, local when possible, to bring you the juiciest organic burgers, in-season fresh-catch fish and chips, and hand-battered sweet onion rings on the Coast. Almost every item on this menu is available in a gluten-free version, including their deep fried items.
Public Coast Brewing Co. sources as much as possible from local farms and ranches within 400 miles. Thanks to their partners at Rogue Creamery, Petaluma Poultry, Rocky Mountain Organic Meats, Tillamook Creamery, Jacobsen Salt Co. and Zweifel Farm Eggs.
Have friends that are 21 and under, Stephen's Root Beer is brewed at Public Coast Brewing Co. by Will Leroux and his young apprentice, Stephen Snyder.
Boasting a large pet-friendly patio, wrap-around bar and large windows offering an up-close look at the brewhouse, Public Coast Brewing Co.offers a relaxed and welcoming spot for the whole family.
Public Coast Brewing is located at 264 Third Street, Cannon Beach.