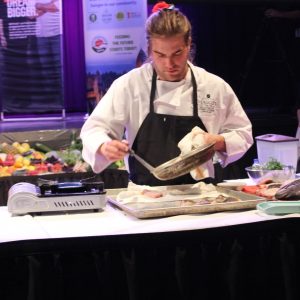 Who will be crowned Iron Chef of the Coast? 
Watch this thrilling competition while sampling delectable bites and casting your votes for the "People's Choice" and "People's Dessert of Clatsop County" from among 16 of the county's top restaurants.
For the "People's Choice" award, you get to be the judge by visiting each restaurant and casting your vote. After the votes are tallied, the top two restaurants will be announced and qualify as competitors in the next year's Iron Chef Competition.
Don't forget dessert! Again you get to be the judge for the "People's Dessert Choice" where local pastry chefs compete for "Best Dessert of Clatsop County." You will also enjoy a wonderful silent auction fill with stay-cations, chef experiences, dining packages, and lots of gifts.
Due to the generous amount of time, talent, and food donated by our participating restaurants and sponsors, 100 percent of all proceeds benefit United Way of Clatsop County and its 14 partner agencies.
The first Iron Chef Goes Coastal event was held in 2008. It has grown each year to attract more guests and raise more money for local United Way agencies.
Typically held in November in Seaside, Oregon.