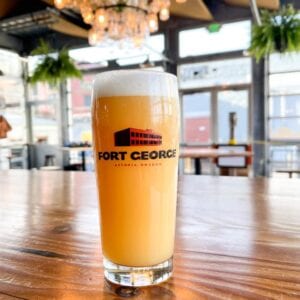 Founded in March 1811 by Captain Jonathan Thorn, Astoria was the Pacific Fur Company's primary trading post in the Pacific Northwest. Astoria was renamed Fort George after King George III while under temporary British Authority during the war of 1812. At over 200 years, Astoria is the oldest American settlement west of the Rockies.
In 1924 the Fort George Building was erected on the original settlement site of Fort Astoria, operating as an automotive repair shop through the early 1990's. Briefly abandoned and sadly neglected, the Fort George Building was revitalized in 2007 and became the home to Fort George Brewery + Public House as well as the Blue Scorcher Bakery.
Sweet Virginia was the very first batch from the brewery. Their website reads that while "she was just a wee lady, she helped bring some of the thrum of hard work back to this pocket of the city."
Each of their brews is lovingly crafted from the finest ingredients, local and organic when possible, and every recipe evolves over time.
Distributed only in the Pacific Northwest, Fort George beer is best savored fresh.
"We don't to be too big that we lose our focus," Executive Chef Jeff Graham said.
In addition to great brews, Fort George also crafts food that matches the excellence of their beers.
"I care about what I put in my body and what goes in my family's bodies and I want the same for the people that come here," Graham said.
Fort George uses beef from Nehalem River Ranch and flour for their pizza dough from a farm in Walla Walla that uses salmon-safe growing practice.
Join Fort George at one of their three restaurants, tasting room, breweries, cannery, and music venues.
"The experience of coming to the source to try a pint is pretty awesome," said Graham.
Visit their website for updates on hours and visitor capacity.
Fort George Brewery and Public House is located at 1483 Duane Street, Astoria.