"A Celebration of James Beard & Friends in Cannon Beach"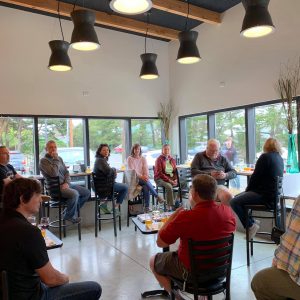 Come and enjoy a fabulous weekend of culinary arts in Cannon Beach, at the North Coast Culinary Festival. Experience the ultimate in coastal culinary arts, in honor of James Beard & Friends! A portion of the proceeds will go to a Culinary Arts Program at Seaside High School.
The weekend's events include food and drink explorations, tastings, a Night Market After Party, and the very popular progressive dinner.
At the progressive dinners, choose either downtown or midtown location and be prepared to be wined and dined at some of Cannon Beach's most charming delectable restaurants. Each chef will prepare a special entrée that will reflect their passion for food and love of hospitality. Appropriate beverages will be paired with each dinner.
The event is hosted in Cannon Beach in May.
"Last year I had the honor of attending the inaugural North Coast Culinary Festival, and it left quite the lasting impression on me. I am a travel and culinary writer by trade and have enjoyed a substantial number of food-centric events over the years. In my opinion, this one stands up and out for a number of reasons. To begin with, It honors James Beard and his culinary legacy in his childhood summer stomping grounds. The festival has a number of events at a number of different locations where he drew inspiration for what would become his life's work. You see his summer home, you hear stories about him, and taste the north coast ingredients that he coveted. There are informative, interactive workshops that touch on all facets of what Oregon's coastal cuisine is all about. Thoughtfully tying our past into our present, and getting us excited for the future. I'm excited to be teaching a workshop on culinary writing this year! Then there is, of course, the food. Prepared by some of the most talented chefs and artisans in the Northwest. The progressive dinner, night market, brunch, the final dinner – all convivial events bringing together strangers from near and far, and uniting them in appreciation for this incredible legacy, the remarkable bounty, and supportive community that we have right here in Oregon. The end result is in an event that is reverent, meaningful, informative, inspirational, and celebratory. And I'm pretty sure everyone in attendance last year felt it. I'm looking forward to reliving that feeling again this year, and hopefully many more after."
  – Adam Sawyer 
Professional Gentleman of Leisure