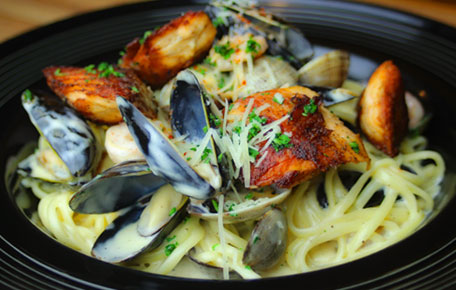 Pacific Restaurant prides itself on using ingredients from within 50 miles.
"The community itself has embraced this and it has become their little gem," said Nelia Serapion, co-owner and chef. "We don't go out and seek what's the trend, we want to stay with what's available already within our region.
Pacific Restaurant is housed in a historic building in the heart of Tillamook, and draws visitors to downtown.
"I don't say, 'This is my restaurant, or Nelia's restaurant,' said Phil Biermann, co-owner and chef. "This is the town's restaurant. It's a center to meet and have a good time."
Diners are treated to locally grown, and freshly prepared food. From seafood, to Asian fusion, to their made-in-house bread, you'll have to come back more than once.
"Making a great plate is not only the ingredients, but the person who is crafting it," Nelia said. "A person who is very happy makes a happy plate and that will ripple into the individual who will be eating that plate."
"I don't think you can ever achieve perfection, but you can try and get as close as you can," Phil said. "Cooking is a very personal thing. It's a very special relationship to cook for another person, so I take it seriously. Plus, I get to play with fire and knives all day; it's just fun.
Pacific Restaurant is located at 205 Main Ave, Tillamook. Open Monday-Saturday.