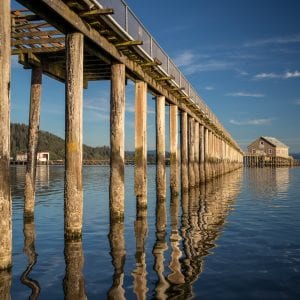 Situated above the water in close walking distance to Garibaldi City Center, Pier's End is a freestanding building and walkway extending 760' out into the bay on a series of over 100 individual pilings.
The Pier is currently open to the public year round courtesy of an agreement between Oregon Department of Fish and Wildlife and the Port and City of Garibaldi.
A concrete stairwell provides access to the shoreline and seven handicapped-accessible turnouts are often utilized as platforms for fishing, crabbing, and wildlife viewing. The Pier is a popular recreational site in all seasons. A gravel parking lot services the site with portable restroom facilities and a trash receptacle.
The boathouse itself is staffed by volunteers and open weekends, Memorial Day – Labor Day.
Background
Garibaldi's history is steeped in timber and maritime tradition, and like many Oregon coast communities, geography has played an important role in shaping the city and port that exist here today.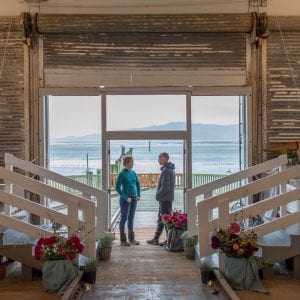 Up through the early 1900s, Tillamook, Garibaldi and the surrounding villages relied on ship and rail to support commerce. This dependence on the sea to transport goods and passengers lead to increased concern in the safety and viability of crossing the Tillamook Bay bar. The treacherous waters have claimed several ships and lives over the years.
The history of the United States Coast Guard on Tillamook Bay traces back to US Congress approval for a Life-Saving Station in Barview in 1904. The last station to be built on the Pacific Coast during the Life-Saving era was located in Barview at the mouth of Tillamook Bay. Due to a change in the coastline in 1915, the station's boats were housed and moored at Garibaldi, about a mile and a half farther into the bay. The Coast Guard continued to use the Barview facility until January, 1943, when they moved into their new station in Garibaldi.
Pier's End Boathouse's most significant historical value is its designation as an intact former United States Coast Guard Lifeboat Station. Plans for it were drawn in 1934. Construction began in 1936, and the marine railway became fully operational in June 1937. The structure could accommodate two 36-foot motor lifeboats (MLBs) and one 26-foot oar-powered surfboat, all individually served by rails which merged into one set of launching rails.  This system allowed lifeboats to be rapidly launched, fully manned.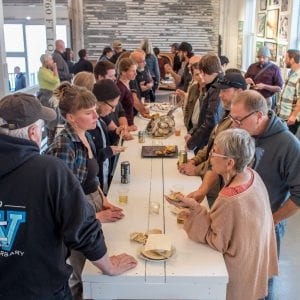 It was decommissioned in the early 1960s when the Coast Guard relocated to a new facility, and later the boathouse became property of the Port of Garibaldi. The US Coast Guard continues to save lives and honorably serve the Oregon Coast with an active presence on Tillamook Bay in a modern facility at the Port of Garibaldi.
Today, partners with local school districts and non-profit organizations offer free educational and recreational experiences such as guided hikes, marine harvest clinics/chef demos, film and photography exhibits, as well as field trips at the Boathouse and surrounding areas.