Meet Charlie, a third generation Oregonian living in Pacific City. He loves this town and takes pride in his family's involvement in the community. His grandfather first moved the family to Pacific City in 1971 to commercial dory fish for salmon. Since 1989, his father has run the Sportsman's Pub-n-Grub, setting Charlie with a great example of how to interact with the town and its locals.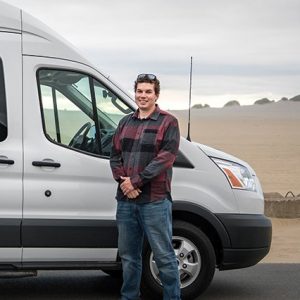 Charlie's work history in the tour field is extensive. He's been a courtesy driver at several establishments ranging from the White Elephant Hotel in Nantucket, MA, the St. Regis in Park City, UT, and the Little Nell Hotel in Aspen, CO. He worked in Skagway, Alaska, responsible for the transport for up to 50 guests, taking them from the docks, through congested mountain roads, to the interior of the Yukon, Canada. He did this in a 45-foot MCI motor coach and earned passenger endorsements along the way. While working in Vail, CO, he drove passengers to and from the Denver airport, navigating the continental divide in all of winter's conditions. It's been these jobs, as well as countless other seasonal positions, that have helped inspire Charlie to start his own tour and transportation company.
Oregon Coast Tours is the premier transportation company in the Pacific Northwest.  Whether you need a safe party bus for wine tours, brewery visits, the next wedding, a bicycle shuttle for your Oregon Coast bike trip, or just want a stress-free, private vehicle for whatever you have in mind, Charlie is here for you.
Charlie will adjust the day to your personal travel style. Leave the planning and driving up to him; one of the most challenging tasks on the busy Oregon coast is parking. Their service will drop you off at your destination and pick you up when you're ready.
Charlie could not be more uniquely qualified to lead travelers with Oregon Coast Tours. His rich, local family history, combined with his extensive background leading tours, makes him an ideal guide. Paired with his enjoyable personality and outgoing manner, guests are sure to have an unforgettable time on the Oregon Coast.