Robyn Barcroft, owner of The Grateful Bread since 2001, has known that she wanted to own a restaurant since her first job at 15 years old at a fast-food restaurant.
She grew up in Bend, Oregon on a cattle ranch. When her parents retired to Pacific City, she started to visit and fell in love with the community. She moved to the area and eventually started cooking at The Grateful Bread. She met her husband and moved back to Bend, but as soon as the restaurant came up for sale, she jumped at the chance to own such an already established landmark on the Oregon Coast.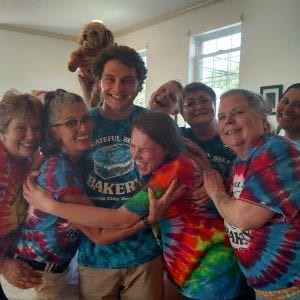 "I bought the restaurant of my dreams, and literally the day after I signed the paperwork, 9/11 happened."
Robyn had doubts about the economy, but her worries did not last long.
"It wasn't hard to see that this little coastal community supports its local businesses," said Robyn.
It may come as a surprise, but the name Grateful Bread was originally just a play on words. Of course, fans of the legendary band The Grateful Dead began flocking to the bakery, often leaving memorabilia. To commemorate the band and its devoted fans, Grateful Bread Bakery's entire staff began wearing tie-dyed uniforms.
"We are so grateful for the love, kindness, and support that our customers have shown us over the years," Robyn said.
The Grateful Bread Bakery staff is committed to making great food and providing friendly service to their loyal patrons. They offer an assortment of fresh baked breads and pastries made from simple and wholesome ingredients. Many of Grateful Bread Bakery's most popular items are the original recipes from 20 years ago.
Customer favorites also include our delicious and fluffy scones. They have a variety of fruit filled scones and savory scones that are sure to please any craving.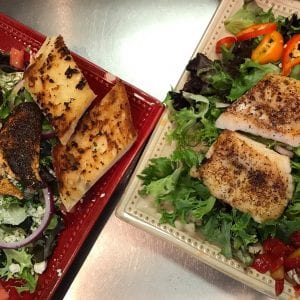 At "The Bread," there's also a full breakfast menu and lunch menu with a full variety of omelets and scrambles all served with baking-powder biscuits or bakery toast. They also serve fresh local caught Cod sandwiches and fish tacos for lunch. There are plenty of options for vegans and vegetarians.
Grateful Bread Bakery believes in community involvement. The business often holds cookie promotions, with 100 percent of the proceeds going to local causes. Unsold bread and pastries are donated to the Pacific City Food Bank.
The grateful bread open 8 am to 3pm Thursday to Monday.