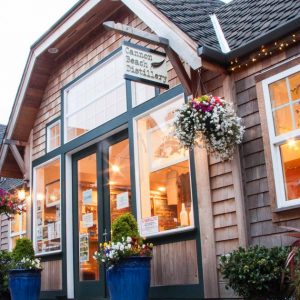 Cannon Beach Distillery's Mike Selberg has a love of chemistry and what he calls, a "real appetite for good whiskey."
He uses both to bring a variety of distilled spirits to the North Coast Food Trail.
Armed with a degree in natural sciences from the University of Puget Sound in Seattle, Selberg discovered he had a knack for chemistry, particularly the distilling process.
"You actually learn the distilling process very early in chemistry," he says. "It was something that really fascinated me."
Since July 1, 2012, when the business opened its doors, Selberg and his team have fermented, distilled, matured, and bottled all of their award-winning spirits from raw ingredients entirely from scratch on site: agave spirits, gin, single-release whiskey, and rum.
Selberg says they are probably best-known for their rum: their Amber Rum was voted "Best Craft Rum" in the country by the American Distilling Institute in 2014.
Everything is under one roof, which makes Cannon Beach Distillery rather unique in the industry.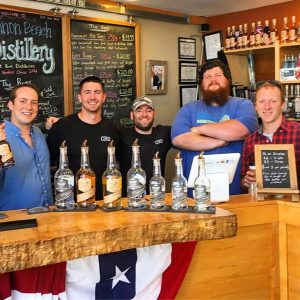 "Not a lot of distilleries ferment the raw material, mature it, bottle it, label it and do the whole thing without a lot of sourcing," Selberg says.
As they continue to experiment with the ingredients in their spirits, Cannon Beach Distillery is actively engaging with their suppliers, particularly when it comes to grains and botanicals. Selberg thinks this outreach makes his distillery a natural fit for the North Coast Food Trail.
"Going forward, all of our grains are supplied by Oregon farmers and Oregon maltsters." he says. "We're making a point of concentrating on local ingredients to create high-quality products."
Selberg realizes that supporting local growers is a reciprocal relationship that can sustain entrepreneurs during slower times of the year.
"I will always support manufacturers, growers, people who create stuff," he says.
Cannon Beach Distillery has two locations in Cannon Beach: the main distillery downtown at 255 Hemlock and a midtown Whiskey Tasting Room at 1315 South Hemlock. Their spirits can be found in 28 liquor stores around Oregon, including the Wheeler Liquor Store. They're also poured at local bars, such as the Wayfarer and Warren House in Cannon Beach and MacGregor's Whiskey Bar in Manzanita.